A beautiful Navratna bangle or a layered Jadau neckpiece to go with that boat necked gown of yours. A beautiful Polki choker neckpiece to steal the show with your off shoulder LBD, or a classic Jadau statement ring to go with your all black formal blazer and pencil skirt, who would have thought that those priceless Jadau and Polki possessions of your grandmother can be used with your modern everyday outfits.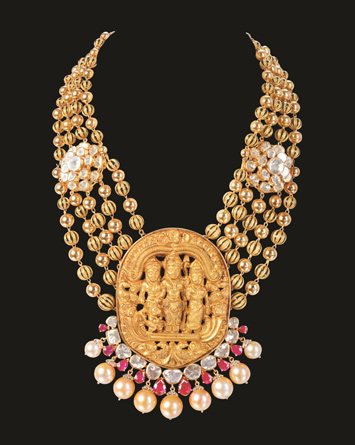 Craft Traditional Pieces
The beautiful traditional pieces of jewellery which had its origin in the Royal Mughal household continues to rule the hearts of women, even today, irrespective of their background, age or occupation. This style of jewellery flourished under the skilled craftsmanship of the Bikaner craftsmen. This intricate jewellery requires a lot of skill, patience and effort and is known for their finesse. Today when this traditional jewelleries are taking the world by storm, stores like Sawansukha, boasting of the finest Designer kundan and jadau jewellery in Kolkata pays tribute to those craftsmen of Bikaner and entire Rajasthan who are responsible for preserving and passing on the tradition and legacy of this intrinsic craftsmanship. It is the tradition of this people which has moved on to become a fashion statement for people across the world.
Perfect for Traditional Weddings
Be it on the red carpet or a big fat traditional wedding, the traditional jewelleries have become the new contemporary jewellery for the modern young women. Wearing a Polki pendant on a gold chain or a Jadau brooch with your formal shirt adds a fun touch to the overall look. Be it the teardrop Jadau earring or the Maharashtrian Ear cuff, it is the tradition that has become the contemporary style of jewellery in the present times. A beautiful chandbali earring to go with your anarkali or a jeweled or Jadau haircomb with your floor length gown simply adds a touch of sophistication and tradition to your contemporary look.
So when the whole world is going gaga over how the present generation is getting detached from their roots, bring home a touch of tradition and add it to your contemporary style and let the world know, how much connected you are to your roots.